We are delighted to share our
resources for schools
Great Big Live Assemblies
For the first time, in June 2023, we gathered schools together via a live online broadcast that was inspirational, informative and interactive. The 20-minute Great Big Live Assembly will help children see for themselves what life is like for many children around the world. As well as discovering stories and statistics, children in schools around the UK were able to connect with their counterparts in a refugee camp. Our aim is for children across the UK to recognise and celebrate the contribution refugees make to life in the UK and demonstrate some of the ways we can all stand with refugees.
On Tuesday, October 10th at 9:05am, we hosted a live broadcast for schools all across the country. This fast-paced, age-appropriate Great Big Live Assembly featured:
inspirational input from black personalities and influencers
focus on this year's Black History Month theme: "Celebrate Our Sisters"
opportunities for students to be inspired by black women of influence around the world
opportunity to ask questions of the panellists and learn about practical things they can do to help make a difference in their communities.
This month, to celebrate World Children's Day, we will be hosting a live broadcast for schools all across the country. This fast-paced Great Big Live Assembly will look at:
why it is important for children to raise their voices on issues that matter to them and how they can do that
what life is like for young people in other countries around the world
the benefits of global citizenship learning.
It will also feature a live link with children in Ghana and Bangladesh. These inspiring young people recently addressed the United Nations General Assembly and spoke to world leaders about the opportunities and challenges facing their countries and now they are coming to speak to us.
Journey to bethlehem music lesson
A special event particularly geared to KS2 and KS3 with world-renowned music producer and film director, Adam Anders, in the week of his new musical release: "Journey to Bethlehem", starring Antonio Banderas, Fiona Palemo, Lecrae and Omid Djilali.
Adam Anders is best known for the TV show Glee, his movies Camp Rock and High School Musical and for working with Jonas Brothers, Miley Cyrus and Pink. 
In discussion with Adam Anders, we will be looking at how to get started in writing your own songs, the process of recording and producing hit songs, and the opportunities for different careers in the music industry, as well as the story behind his latest musical and some sneak previews. There will also be a competition for your school to win 6 ukuleles as sponsored by Front Row Music so please sign up here.
Great to see feedback from schools!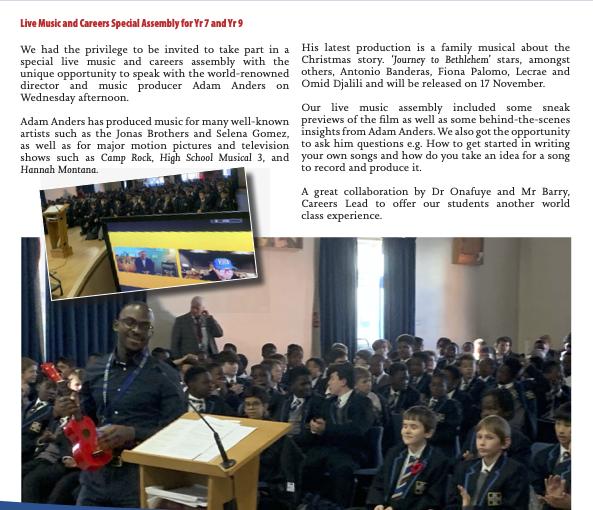 Sign up to the mailing list and receive all the latest information, resources and events